Texas EquuSearch of Dickinson Texas, Tim Miller, Director
Click here for Jacomini Family Search
Below: Search for Kennworth Eaton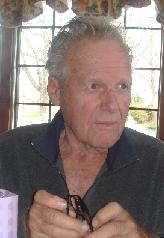 Kennworth Eaton, age 76, was last seen on Saturday, August 25, 2007 and disappeared while flying his Piper Cherokee 6 plane from Spadaro Airport in East Moriches and aborting an approach to Gabreski Airport in Westhampton. He has not been seen or heard from since. It is unknown what Kennworth was last seen wearing.

4/14/2008 – We move closer and closer to obtaining the information necessary to find Mr. Eaton.

June 8, 2008 – Tim Miller and four TES members have arrived in New York to meet with family make the attempts to recover Mr. Eaton from his downed aircraft. We are confident the many months of study and preparation will make this trip a success. Please continue to pray for this family.

June 12, 2008 – Although this trip did not produce all the answers we had hoped for, we continue to research and will return to New York to resume this search. A special thank you to Ralph Baird, who has tirelessly worked for months to find Mr. Eaton's downed plane. We remain assured his determination, expertise and incredible skills will render a return.
click here for Texas EquuSearch website
Search for loved one Mr. Kennworth Eaton and aircraft N5067T ( Piper Cherokee 6 ), lost August 25, 2007.
Second Search and Recovery Mobilized June 8, 2008 from Shinnecock Point, NY.
Members of the Underwater Search Team:
Texas EquuSearch, Dickinson, TX: Tim Miller, Ralph Baird, John White, Lisa Hoffman
FAA, Westbury, NY: Ed Garlick
NYSP, Albany, NY: Al Garcia, Karl Bloom, Joe Benziger
Viking Fleet, Montauk, NY: Steve Fosberg, Steve Fosberg, Jr., Joe DiLiberto, Steve Martinez, Kobi Kobayashi
Survey completed June 11, 2008.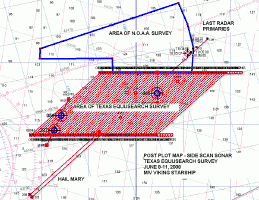 Pre-survey planning Images and files:
Combined Survey Areas: Survey MAP 1 Survey MAP 2
Area 1: SOUTH 100 M: Survey Map Waypoints
Area 2: EAST 100 M: Survey Map Waypoints
Area 3: WEST 100 M: Survey Map Waypoints
South Area 75 Meter smaller Survey: MAP Waypoints
Long Island Aircraft Search Additional contacts.pdf detail from NOAA
Long Island Aircraft Search Survey Area.pdf NOAA survey MS-PowerPoint
N5067T All Hit 1750-36-4 to 1806-26-0 UTC.bmp replay of radar from 84th RADES
Texas EquuSearch Office

4013 FM 517, Suite B Dickinson, Texas 77539
P. O. Box 395, Dickinson, Texas 77539

Office: (281) 309-9500
Fax : (281) 534-6719
Toll Free: (877) 270-9500

© 2008 Ralph Baird - This page is sponsored by Ralph Baird and Texas EquuSearch www.txeq.org .